Discover more from PREMINT's Product Updates
Stay up to date with all the things happening with the PREMINT Platform
Over 1,000 subscribers
Collab with PREMINT Collector Pass holders
Here's a quick guide on the best ways to create an offer for PREMINT Collector Pass holders.
PREMINT launched our Collector Pass April 1 and it immediately sold out. The 10,000 token holders are passionate NFT collectors always looking to find new great projects to join, and we launched Collector Exclusives, a dedicated place in the Collector Dashboard to show off these opportunities.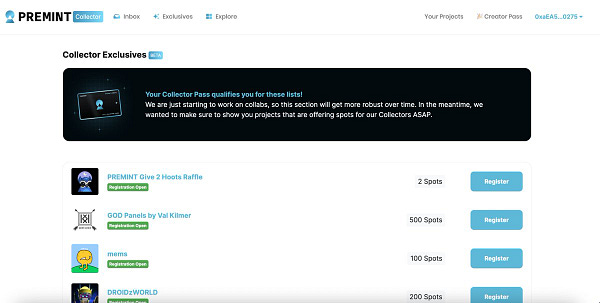 This section was handpicked, but we found the demand for projects to offer spots to our community to be so high, that we've revamped it into the Allowlist Offers section. Projects offering allowlist spots to our community can expect hundreds to thousands of high quality registrations.
If you're interested in offering access list spots to this community, you would need to be a holder of the PREMINT Creator Key. Do not buy the Creator Key for just this reason; a very small number of projects are approved. The Creator Key does not guarantee that your collab, or offer of allowlist spots to PREMINT Collector Pass holders, will be approved.
There are two ways you can setup a collab with Premint Collector Pass holders, sorted by our preference.
Add a Collab to your existing PREMINT list.

Create a PREMINT list specifically for this offer.
That's our preference, and we'll dig into each one, but to be clear, if you aren't already a PREMINT Creator, buying a creator pass is NOT guarantee a collab with us. Don't buy a Creator Pass just to submit a collab, because it might not be approved. Speaking of…
How we decide what's Approved
Not all offers will be added in the Collector Dashboard's Allowlist Offers section. We review everything to make sure it's not a scam and the offers are legitimate. This is a manual process, so will take a bit of time.
Legitimacy
We need to make sure your project is legitimate and you aren't linking to any malicious places. If we find you are trying to submit anything that could be seen as a scam, the offer will be rejected and you wont be able to make future offers.
Allocation
We are excited to offer exclusive list spots to our community, but please realize that there are a lot of very excited collectors in our community. Collabs with PREMINT Collector Pass holders usually generate over 2,000 list signups (usually way more).
That means, if you're only offering 25-100 spots, 1900 people won't be selected. This has turned them off in the past, so we're trying to ask for a meaningful amount of spots if you're serious about involving the community.
Of course there are always exceptions, and always offer whatever you feel comfortable with, but the more, the better.
Now, let's move on to how to set it up…
Option 1: Add a Collab to your existing PREMINT list
This is by far the easiest and best way to work with us, and we'll generally be able to review and approve collabs that go this method the fastest.
PREMINT's Collab feature allows you to create extensions to your existing PREMINT list that sets aside spots for members of a different community. Just click "Collabs" in the the left side of your project dashboard. On the next page, you'll see a button to create a collab for PREMINT Collector Pass Holders.
Just click "Create Offer.." and fill out the two fields: Spots Available and Selection Method
Remember, the PREMINT Collector Pass community is very active, and over 7.5k+ unique holders, so it's best to offer at least 500 spots. We generally don't accept super low spot allocations because it frustrates the community.
Once you set it up, we'll review and add it to the dashboard. Most Collabs will be marked as "Unofficial", meaning we aren't specifically recommending this to our collectors, but it will show up in their dashboard.
Option 2: Create a PREMINT list specifically for this offer.
If you don't have a list running yet and just want to do a list specifically for the PREMINT Collector Pass offer, that is fine too. Just set a list up with the following settings:
Name: [Your Project]

Mint Date: Required

Collabs Only: True
Then, follow the instructions in #1 above to add PREMINT Collector Pass holders as a Collab. This means if anyone goes to this list, they'll be directed to only sign up through the Collab.
The Collab Council
The team members that might reach out representing PREMINT are:
Discord: Bahgley69#2691 Twitter: @Bahgley69

Discord: FZ#3831 / Twitter: @cryptoFZ1

Discord: normie#0001 / Twitter: @normieNFT

Discord: Prometric#7387 / Twitter: @Prometric666